IDENTITY & ACCESS MANAGEMENT
Identity as a service (IDaaS) enables your organisation to securely connect the right people to the right technologies at the right time - all from the cloud.
Modern cloud identity solution for modern companies
Secure, centralised and
seamless access to all enterprise applications.
Subscription-based and thus scalable and cost-flexible.
Enormous time savings, e.g. in the creation and removal of user accounts.
The goal of reliable identity and access management is to ensure that users are who they say they are and to give them the right types of access to applications and tools at the right time. The service helps organisations control who their organisation's users are (identity component) and what services they can or cannot access as well as how they can access them (access management component).
The identity challenges are growing
Advantages of IDaaS solutions
You can customise, organise, and manage any user attributes from multiple identity sources with a flexible, cloud-based user store.
Free your employees from multiple and lengthy passwords. With a single set of credentials, they can access enterprise applications in the cloud, on-premise, and on mobile devices.
Multi-factor authentication (MFA)
Secure apps and your virtual network (VPN) with a resilient policy framework, a comprehensive set of advanced verification factors, and adaptive, risk-based authentication that integrates with all your apps and your organisation's infrastructure.
Automates the onboarding and offboarding of users, for example, by ensuring seamless communication between directories such as Active Directory and LDAP and cloud applications such as Workday, Office 365 or RingCentral.
Short introduction: What is Okta?

We are an official Okta Partner
commehr and Okta for your identity solution
To protect the identities of your company, your employees, and your customers, commehr works with the leading identity solutions company: Okta. More than 6,000 companies, including Bertelsmann, Adobe, Zurich Insurance, Hertz and Groupon, trust Okta to protect the identities of their stakeholders.
commehr supports your company throughout the entire implementation of Okta - from the initial consultation to daily support. Translated with www.DeepL.com/Translator (free version)
One platform for all use cases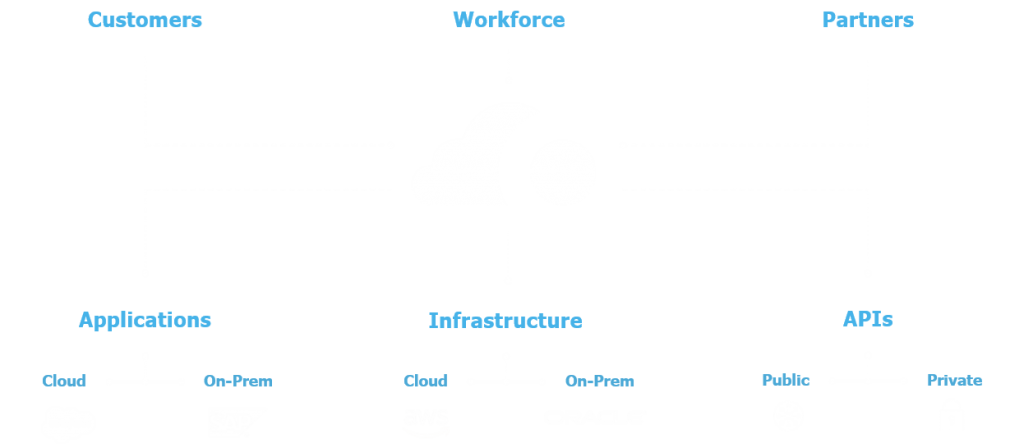 Are you and your company interested?
Then send us an email or give us a call: