ASSET & CLIENT MANAGEMENT (ITAM)
Strategic IT asset management made easy: Your organization benefits from visibility and control over all hardware and software assets throughout their lifecycle.
IT-Asset Management (ITAM) vs. Client Management
What is IT asset management for?
IT asset management centrally manages and monitors all IT assets on a network throughout their lifecycle. Your company maintains an overview of the entire digital inventory and can thus use assets more effectively. For example, unnecessary asset purchases are avoided by reusing existing resources.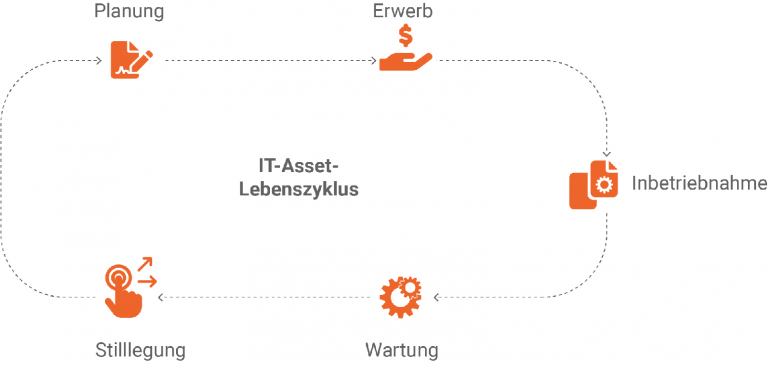 Central overview of all assets and software and hardware details
We modernize your IT processes with central asset management
In a free consultation, you can learn even more about how your company can implement centralized IT asset management and the benefits it can bring.
Different devices, different technologies and manufacturers often make the administration of workstations complex and confusing. Managed Client can help make maintenance, support and processes more efficient and save resources.
What is Client Management?
Managed Client is a central solution for the administration of PC workstations, which in many companies consist of a wide variety of devices and technologies from different manufacturers. A unified client environment and the associated automation of many processes result in enormous advantages from which your company can also benefit. The goal of Managed Client is to ensure the functionality and security of the workstations in your company. And we help you do it!
Asset vs. Client Management
Find out which additional areas Client Management covers. In our overview you can see where our services differ.
These are the advantages of Managed Client
Asset Management and Client Management
Asset Management and Managed Client in Comparison
In general
Übersicht über die Assets und Statusmeldung "Health"

Inventur (Geräte) Tracking

Seriennummer, Hersteller, Modell u.ä.

Alle Lizenzen aktiv/gültig, alle Software aktuell

Windows Updates planen und installieren

Automatische Software-Updates*

* Erklärung Skripte siehe FAQs

Meldung an eigene IT/E-Mail

Fehlermeldung proaktiv an eigene IT

Zugriff für einen internen Admin oder Controller

Zugriff der Powershell/ Taskmanager etc.
Software